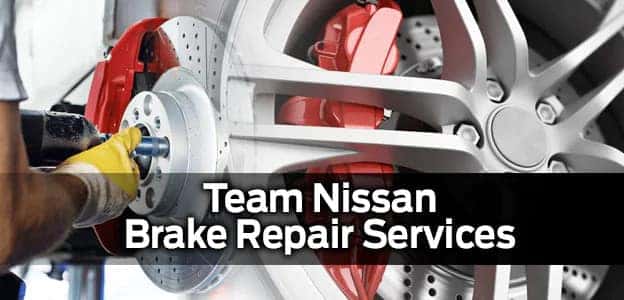 Your brakes are arguably your vehicle's most important safety feature. If you don't maintain or replace your brakes when needed, you are putting yourself and others in danger of collisions that could be avoided. Team Nissan in Manchester, NH has a team of highly-trained mechanics that can provide you with high quality brake repair services to help you avoid those unnecessary accidents.
Schedule Service Appointment >
When Should I Replace My Brakes?
The most common type of brake maintenance is a brake pad replacement. Your brake pads are designed to wear down over time, so you should start noticing certain signs that your brake pads are in need of replacement before it is too late. Here are some signs to look out for:
Squealing: Break pads are designed with metal wear indicators near the top of your brake pads. When the pad wears down, these indicators rub against your rotor and create a sqealing sound. If you start hearing this sound every time you brake, it is highly recommended to schedule a break service appointment.
Clicking: If you start to hear a clicking sound when you apply the brakes, it could be a sign that the hardware meant to hold your breaks in place have become damaged and loosened.
Longer Stopping Distance: If you notice that it takes you longer to come to a complete stop than normal, it could be an sign that your brake pads are wearing down and need to be inspected or replaced.
Pulling to One Side: Brake pads don't always wear at an even rate. If you start to notice that your car pulls to the left or right while breaking, it's time to schedule an appointment. Ignoring the problem could damage your steering components and lead to a much more expensive repair.
Vibration: If you notice your brake peddle vibrating when you step on it, it could mean that the adhesive holding your brake pad together is deteriorating.
Team Nissan Manchester Brake Repair
Team Nissan provides high quality brake repair service in the greater Manchester, NH area at our location at 70 Keller St Manchester, NH 03103-3201. Our highly-trained staff is here to take care of your brakes Monday-Friday from 7am – 7pm, and Saturday from 7:30am – 6:00pm. If you think your brakes are in need of repair or replacement, make an appointment today!