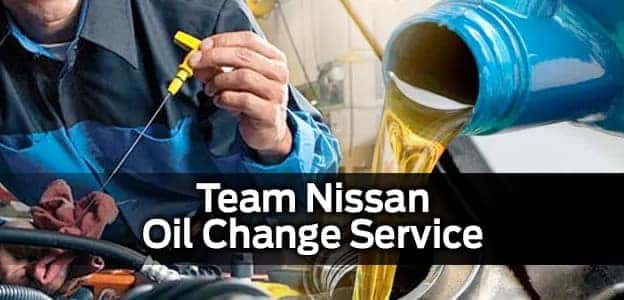 Getting a regular oil change is essential to keep your Nissan running effieciently. Team Nissan in Manchester, NH is the perfect place to schedule your next oil change. Our team of highly-trained technicians, fair prices, and convenient service center hours ensure that you'll leave satisfied and with peace of mind. Be sure to check out of service coupons as well.
Why Do I Need to Get an Oil Change?
Your Nissan vehicle is filled with thousands of metal parts, working together like a factory of shifting gears to keep your vehicle moving. Oil travels between all of these parts to keep them lubricated. Without lubrication, these metal parts would rub together, causing your vehicle to run ineffeciently, or worse, causing permanent damage to your engine. It's important to get your oil changed by a technician who's trained to work on Nissan vehicles, and there's no better place than Team Nissan!
Conventional Oil or Synthetic Oil?
Today, there are two types of oil to choose from, conventional oil and synthetic oil, and you may be wondering which one is best for your Nissan. Typically, synthetic oil will last about twice as long as conventional oil, so you won't have to worry about scheduling another oil change appointment as soon. However, that does come with a comparable increase in cost. Our technicians at Team Nissan will help you decide which is the best choice for your vehicle and are ready to answer any questions you may have.
Team Nissan Manchester Oil Change
Team Nissan provides high quality oil change service in the greater Manchester, NH area at our location at 70 Keller St Manchester, NH 03103-3201. Our highly-trained staff is here to take care of your vehicle Monday-Friday from 7am – 7pm, and Saturday from 7:30am – 6:00pm. If it's time for an oil change, make an appointment today!